Johannes Brahms
There is a very famous portrait of Johannes Brahms, a silhouette by Otto Böhler that depicts the aging Brahms in black walking resolutely, accompanied by a curious red hedgehog. Brahms' favourite restaurant was called
Zum Roten Igel
- The Red Hedgehog, but Böhler probably meant to highlight Brahms' prickly personality as well.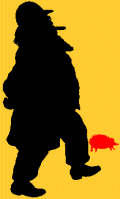 Brahms and Hedgehog
In his old age, he had a deserved reputation for being caustic, and did not suffer fools lightly. Yet none of this translates into his music.
How can we describe Brahms' music? Lighthearted and playful? Rarely. But on the other hand never bitter or sarcastic. Sad frequently, and sometimes angry. Always introspective, intimate, serious.
Brahms is not well known for his piano music, yet, like his
chamber works
it contains some of his best. He originally earned his living playing piano in taverns, and only later in life did his focus shift to composition.
His piano music can be divided conveniently into five groups.
His early, showy sonatas (Brahms was a young man once too). These are labeled Opus 1 and 2 and span the Classical-Romantic bridge.
His sets of variations, including the immense and complex Schumann, Handel and Paganini Variations.
Transcriptions and immitations of baroque compositions, especially the sensitive interpretation of the Bach Chaconne (much more honest than the Busoni version). Listen to it, and then marvel at the fact that it is for left hand alone!
Short lyric pieces, including his Rhapsodies, Ballades, Romanzes, and Intermezzi, culminating in the magnificent sets of Klavierstücke opus 117-119 near the end of his life.
And of course the Hungarian Dances, perhaps his best-known piano music, and his least Brahmsian.
I had never heard of Martin Jones before I bought this CD set. He is a Welsh pianist who specialises in late 19th and early 20th century piano music. And specialises, too, in complete works. To date he has recorded for Nimbus the complete solo piano music of Mendelssohn, Debussy (a much praised recording), Grainger, Szymanowski and now Brahms.
Recording complete works like this enables him to really get to know a composer and his style, and the Brahms set is impressive. Technically excellent, without ostentatious showmanship. He plays Brahms the way I imagine Brahms would have liked - serious, but satisfying. Rather than exhausting the listener with theatrics, Jones leaves you wanting more.
Yet, despite the above praise, I must deduct points for the quality of the recording, and hence the rating above. It is quite reverberant, like it was made in a little hall. Some may call this intimate, but to me it sounds a bit hollow. And worst of all, the recording levels are so low that you have to turn the volume controls way up compared to other CD's.
Small niggles indeed, for an otherwise superb cycle. And at $30 for the entire 6 CD box, who's arguing?
Track Listing
Johannes Brahms (1833-1897)
Complete Piano Music
Martin Jones

Disc 1
Sonata No.1 in C, Op.1
I. Allegro
II. Andante
II. Scherzo: Allegro Molto E Con Fuoco
IV. Finale: Allegro Con Fuoco

Scherzo in e flat, Op. 4

Sonata No.2 in f#, Op.2

I. Allegro Ma Non Troppo, Ma Energico
II. Andante Con Espressione
III. Scherzo & Trio: Allegro-Poco Piu Moderato
IV. Finale: Introduzione: Sostenuto-Allegro Non Troppo E Rubato

Study For The Left Hand (Inpromptu By Schubert, D. 899 No.2)
Study No.1 (Etude After Chopin, Op.25 No.2)
Study No.2 (Rondo After Weber, Op.24)
Disc 2
Four Ballades Op.10
No.1 Andante-Allegro-Andante
No.2 Andante-Allegro Non Troppo-Andante
No.3 Intermezzo: Allegro
No.4 Andante Con Moto-Piu Lento-Tempo I

Vars On A Theme Of Robert Schumann, Op.9: Theme And Vars I-VI
Vars On A Theme Of Robert Schumann, Op.9: Vars VII-XVI

Sonata No.3 in f, Op.5

Allegro Maestoso
Andante: Andante Espressivo
Scherzo & Trio: Allegro Energico
Intermezzo: Andante Molto
Finale: Allegro Moderato Ma Rubato
Disc 3
Theme And Vars in d (From The Second Movt Of The Str Sxt, Op.18): Andante, Ma Moderato
Vars On An Original Theme Op.21, No.1: Theme And Vars I-VII
Vars On An Original Theme Op.21, No.1: Vars VIII-XI
Vars On A Hungarian Song, Op.21, No.2: Theme And Vars I-XIII
Sarabande in A
Gigue in a
Sarabande in b
Gigue in b

Vars And Fugue On A Theme Of Handel, Op.24

Aria And Vars I-XV
Vars XVI-XXV
Fuga
Disc 4
Vars On A Theme Of Paganini, Op.35: Book I
Vars On A Theme Of Paganini, Op.35: Book II
16 Waltzes, Op.39: I-VIII
16 Waltzes, Op.39: IX-XVI
Hungarian Dances: I. Allegro
Hungarian Dances: II. Allegro Non Assai
Hungarian Dances: III. Allegretto
Hungarian Dances: IV. Poco Sostenuto
Hungarian Dances: V. Allegro
Hungarian Dances: VI. Vivace
Hungarian Dances: VII. Allegretto
Hungarian Dances: VIII. Presto
Hungarian Dances: IX. Allegro
Hungarian Dances: X. Presto
Gavotte By Chr. W. Gluck
Disc 5
Eight Klavierstucke, Op.76

I. Capriccio: Un Poco Agitato
II. Capriccio: Allegretto Non Troppo
III. Intermezzo: Grazioso
IV. Intermezzo: Allegretto Grazioso
V. Capriccio: Agitato, Ma Non Troppo Presto
VI. Intermezzo: Andante Con Moto
VII. Intermezzo: Moderato Semplice
VIII. Capriccio: Grazioso Ed Un Poco Vivace

Two Rhaps, Op.79: I. Agitato
Two Rhaps, Op.79: II. Molto Passionato, Ma Non Troppo Allegro
Study No.5 Chanonne by J.S. Bach)
Study No.3 (Presto After J.S. Bach, Version 1)
Sarabande And Two Gavottes
Kanon
Kanon (Inverted)
Study No.4 (Presto After J.S. Bach, Version 2)
Kleine Klavierstucke
Disc 6
Fantasies, Op.116

I. Capriccio: Presto Energico
II. Intermezzo: Andante
III. Capriccio: Allegro Passionato
IV. Intermezzo: Adagio
V. Intermezzo: Andante Con Grazia Ed Intimissimo Sentimento
VI. Intermezzo: Andantino Teneramente
VII. Capriccio: Allegro Agitato

Klavierstucke, Op.117


I. Intermezzo: Andante Moderato
II. Intermezzo: Andante Non Troppo E Con E Con Molto Espressione
III. Intermezzo: Andante Con Moto

Klavierstucke, Op.118


I. Intermezzo: Allegro Non Assai, Ma Molto Appassionata
II. Intermezzo: Andante Teneramente
III. Ballade: Allegro Energico
V. Intermezzo: Allegretto Un Poco Agitato
V. Romance: Andante
VI. Intermezzo: Andante, Largo E Mesto

Klavierstucke, Op.119


I. Intermezzo: Adagio
II. Intermezzo: Andantino
III. Intermezzo: Grazioso E Giocoso
IV. Rhap: Allegro Risoluto