Dmitri Shostakovich
Dmitri Shostakovich was not an openly brave man. Nor a happy one. He was criticized by Stalin and the Russian press for his early acrid and sarcastic style, and in 1948 again hauled up in front of the Soviet artistic police and accused of "formalistic perversion".
He feared for his artistic freedom and even his life, and cowered under the pressure. He managed to appease the authorities with his Fifth Symphony which bears the subtitle "
A Soviet Artist's Reply to Just Criticism
".
Yet his music, the only means of expression for the extremely shy composer, is very brave. Even in its most state-sanctioned form, it is a damning indictment of the system in which he lived and suffered. Sometimes subtle and undetectable to the ignorant rulers, but later in Shostakovich's life it became quite obvious. The so-called heroic music was a veiled mockery, the happiness always forced, but the anguish was always plain.
Shostakovich wrote 15 symphonies and and 15 string quartets, and they rank amongst the greatest of the twentieth century. But they are difficult works, difficult in their overwhelming melancholia, and their bleak outlook.
He also wrote concertos, two each for piano, violin and cello, and they are likewise landmarks of their time and style.
This is much more accessible, much more listenable Shostakovich. The despair is still there but wrapped in melodies that are heart-rendingly beautiful, and powerful.
Dmitri Shostakovich - Violin Concerto No.1 in A minor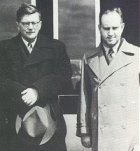 Shostakovich and Oistrakh
The Violin Concerto no.1 in A minor was originally written in 1948 as Opus 77, but Shostakovich held it back until that repressive climate thawed.
It had its first performance in 1955, reworked as Opus 99, with David Oistrakh as the violinist. This is the world-premier recording with Oistrakh, and Dimitri Mitropoulos conducting the New York Philharmonic.
It is typical Shostakovich: introspective but not self-indulgent, melancholic, but without self-pity. It expresses the sadness of his times. The second movement
Scherzo
is a typical mad, manic Shostakovich gallop. The highlight is the third movement
Passacagalia
, one of Shostakovich's most heart-felt and beautiful creations, a melody that proves that Shostakovich was a man with deep, almost religious feelings. A glimmer of quiet hope breaks through in this music.
Written for Oistrakh, with Mitropoulos at his emotional best, this is the recording that all others aspire to, despite it pre-dating stereo.
Dmitri Shostakovich - Cello Concerto No.1 in E flat
Mstislav Rostropovich
The Cello Concerto no.1 in E flat was written in 1959 for Shotakovich's student and friend Mstislav Rostropovich. Together they took it to the USA where it had this world-premier recording with the Philadelphia Orchestra under Eugene Ormandy, with Shostakovich's guidance.
Later, as a conductor as well as cellist, Rostropovich became a great champion of Shotakovich's music, as well as for human rights in Russia.
The powerful opening theme is based on a Shostakovich favourite, the so-called DSCH theme. This theme is found in many of Shostakovich's works, but most prominently in the 10th Symphony and this first Cello Concerto.
It is derived from Shostakovich's name.
In cyrillic text, it looks like this:

When converted to its German form and given a western alphabet it becomes this:
If we take the first letter of his first name and the first three letters of his surname:
And when these letters are translated to the German musical scale it becomes this:
The D remains D, the S becomes E flat (S in the German music scale), the C stays as C, and the H translates to B (often called H in German).
Though it may seem a bit of a contrived way to write music, Bach also used this technique, incorporating his own name into his fugues, most famously in the final
Art of the Fugue
left unfinished as he passed away.
On the strings of Rostropovich's cello, this theme is incredibly powerful stuff, visceral, tight and thrilling. Rostropovich tears into it, bringing forth anger, frustration, despair and resolution, in just 4 little notes.
Then follows a mystical
Moderato
and a difficult, reflective
Candenza
and finally in the
Allegro
we go a mad descent into hell.
Rostropovich shared Shostakovich's ideals and was later expelled from the USSR. You will never hear more devoted playing than Rostropovich's cello, and Ormandy's orchestra, Ormandy himself a Hungarian refugee from Soviet repression.
This is a must-have CD for all Shostakovich lovers. I challenge you to listen to these works and not feel Shostakovich's pain.
Track Listing
Dmitri Shostakovich

Violin Concerto no.1 in A minor
David Oistrakh, violin
New York Philharmonic
Dimitri Mitropoulos

Cello Concerto no.1 in E flat
Mstislav Rostropovich, cello
Philadelphia Orchestra, Eugene Ormandy
Violin Concerto no.1 in A minor, Op.99
I. Nocturne, Adagio
II. Scherzo, Allegro non troppo
III. Passacaglia, Andante
IV. Burlesca, Allegro con brio

Cello Concerto no.1 in E flat, Op.107
I. Allegretto
II. Moderato
III. Cadenza
IV. Allegro con molt