Jacqueline du Pre
The story of Jacqueline du Pre is one of music's most beautiful and most tragic. She was a shining star, loved by all before being struck down in her prime by a terrible illness that cruelly took away her musical ability before it slowly took her life.
Born in Oxford in 1945 Jacqueline du Pre was playing the cello at age four, and by 20 she had studied with Paul Tortelier, Pablo Casals and Mstislav Rostropovich.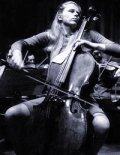 Jacqueline du Pre
Her concert performances rocketed her to fame within England and beyond. She was young, beautiful and vivacious. Never before had audiences seen a woman play the cello with such rapturous abandon and sensuality. She put her all into every performance, to the extent that some audiences were even offended by her physicality on stage.
Above all, she brought to whatever music she played an emotional depth far beyond her years.
In 1965, playing the famous Davydov Stradivarius cello (now owned by Yo-Yo Ma) she recorded the work for which she forever became identified, the
Concerto for Cello and Orchestra
by Edward Elgar.
Elgar's
Cello Concerto
grew out of the horror of the mechanized slaughter that was the First World War. Elgar felt, as many others did, that civilization itself was on the verge of collapse. From this despair came the
Cello Concerto
, full of both English elegance and heartbreaking emotion. It was perhaps Elgar's most intimate and heartfelt music.
Jacqueline du Pre's recording of the Elgar concerto with Sir John Barbirolli conducting the London Symphony Orchestra is one of classical music's great recordings. Inexpressibly poignant, Jacqueline's cello sings. With this recording, she became a star, and in England the public adopted her as their favourite child.
With Daniel Barenboim
Her fame and favour only increased when in 1967 when she married Daniel Barenboim. Their performances together of both chamber works and concertos were universally sold out. Not since Robert and Clara Schumman had there been such a shining musical couple.
By 1970 Du Pre felt the first signs of her illness. She was tired. Her performances began to falter. Doctors diagnosed stress and advised her to rest. She was absent from the concert hall for all of 1972.
In 1973 her affliction was finally correctly diagnosed. She had multiple sclerosis, a degenerative condition of the spinal cord and brain that slowly destroys the transmission of neural messages to the muscles. She was becoming paralysed little by little.
She returned briefly to record some chamber works and a few concerts, but while her spirit was as vital as ever, she had to face the fact that she could no longer give her best. She continued to teach throught the 70's and 80's but the illness finally caught up with her. Jacqueline du Pre died on October 19, 1987.
Her legacy remains. She recorded every major cello concerto ever written, and apart from the Lalo, all are included in this handsome boxed set. Nine great cello concertos, on 4 CD's and at bargain price. Also included are cello works by Strauss (
Don Quixote
) and Dvorak (
Silent Woods
).
A reminder of a life that shone all too briefly.
Track Listing
Jacqueline du Pre
The Cello Concertos
with Daniel Barenboim
4 CD set
Cello Concerto No. 1 in C major, H. 7b/1
Franz Joseph Haydn
English Chamber Orchestra with Jacqueline Du Pre
Conducted by Daniel Barenboim


Cello Concerto No. 2 in D major, H. 7b/2 (Op. 101)
Franz Joseph Haydn
London Symphony Orchestra with Jacqueline Du Pre
Conducted by Sir John Barbirolli


Cello Concerto No. 9 in B flat major, G482
Luigi Boccherini
English Chamber Orchestra with Jacqueline Du Pre
Conducted by Daniel Barenboim


Cello Concerto in A minor, Op. 129
Robert Schumann
New Philharmonia Orchestra with Jacqueline Du Pre
Conducted by Daniel Barenboim


Cello Concerto No. 1, in A minor, Op. 33
Camille Saint-Saens
New Philharmonia Orchestra with Jacqueline Du Pre
Conducted by Daniel Barenboim


Cello Concerto in G minor
Georg Matthias Monn
London Symphony Orchestra with Jacqueline Du Pre
Conducted by Sir John Barbirolli


Cello Concerto in B minor, B. 191 (Op. 104)
Antonin Dvorak
Chicago Symphony Orchestra with Jacqueline Du Pre
Conducted by Daniel Barenboim


Silent Woods (Klid), for cello & orchestra
Antonin Dvorak
Chicago Symphony Orchestra with Jacqueline Du Pre
Conducted by Daniel Barenboim


Concerto for cello & orchestra, RT vii/7
Frederick Delius
with Jacqueline Du Pre
Conducted by Malcolm Sargent


Cello Concerto in E Minor, Op. 85
Edward Elgar
London Symphony Orchestra with Jacqueline Du Pre
Conducted by Sir John Barbirolli


Don Quixote, fantastic variations for cello & orchestra, Op. 35
Richard Strauss
New Philharmonia Orchestra with Desmond Bradley, Herbert Downes, Jacqueline Du Pre
Conducted by Sir Adrian Boult