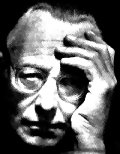 Carl Orff
There is a little town about 100km south of Munich, Germany, called Benediktbeuren. This town has a monastery dating back to medieval times. In 1803, the library of this monastery was being renovated, and a wonderful discovery was made; a manuscript, dating back to the 13th century containing over 250 previously unknown songs and verses, rich in variety and inventiveness, in both Latin and German. The monastery's librarian collected and published them as the
Carmina Burana
, meaning
Songs of Beuren
.
Carl Orff was a German composer who lived all his life in Munich. He was convinced that everybody had within them an innate musical ability and that this ability needs to be nurtured from childhood. He developed a music teaching method, children's musical instruments and an entire new concept of music performance.
His idea was of the
Total Theatre
, combining music, words, visual design, movement and dance to overwhelm the senses. When he was given a copy of the
Carmina Burana
he knew he had found the perfect vehicle to bring his concept to life. In 1937, Carl Orff's
Carmina Burana
was born. He described his composition as "
secular songs for soloists and choruses, accompanied by instruments and magic images
". A simple concert rendition of
Carmina Burana
misses half the fun.
Of the 250 poems in the manuscript, Orff selected just 24 to set to music. But what a spectrum in this selection! They describe everything from religious devotion to lust and gluttony. (
See the full text lyrics of Carmina Burana
).
The Wheel of Fortune
Orff's
Carmina Burana
opens with the stunning and famous
O Fortuna
, its text is a medieval resigned acceptance of the Wheel of Fortune as the determiner of one's fate. This piece alone is so familiar to the general public, having been used in many movies and commercials that they may not even know that it comes from a much larger work of classical music.
At left we have a medieval depiction of the Wheel, Lady Luck at the center, and around the perimeter a Prince made Pauper and back again.
The bulk of
Carmina Burana
is 23 pieces in 3 sections:
Primo vere --- In Springtime
Here we have poems about pastoral simplicity, man's encounter with nature and how the seasons bring on love.
In Taberna --- In the Tavern
Part II deals with wine. The rowdy atmosphere breaks out with drinking songs and hymns to gambling and debauchery.
Cour d'amours --- The Court of Love
The final section describes the passions of men and women with the theme that natural sexual feelings should be expressed freely.
Orff concludes
Carmina Burana
with
O Fortuna
, the Wheel comes full circle, the cycle complete. All of man's petty feelings and endevours are in the fickle hands of Fate.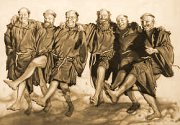 Carmina Burana
Given the rather explicit subject matter (you really should
read the lyrics
!) it may come as a surprise that the authors of these verses back in the 13th century were monks! Goliards to be precise, defined as defrocked or lapsed monks, and students, part of a traveling band of minstrels and clerics who may have used the verses as morality plays.
Carl Orff's music has been immensely popular since it was written, totally eclipsing everything else of his. At first glance, it is difficult to see why. The melodies are very simple, repeated over and over with almost no thematic development. Orchestration is sparse and relies heavily on percussion. Harmony is likewise simple, and polyphony absent. It is not complex music, so why is it so successful?
Its secret lies in its very simplicity true to its medieval inspiration. Its appeal lies in in building momentum and rhythmic force reflecting the subject matter. This is hedonism, primitive and pagan, relentlessly driving and fun.
There have been many fine recordings of
Carmina Burana
but Andre Previn's famous 1975 version for EMI brings out the uncorked spirit of the work, full of fire, and not taking itself too seriously. This is the pick of a fine bunch.
Track Listing
Carl Orff
Carmina Burana
Andre Previn
London Symphony Orchestra
(1975 recording)
Sheila Armstrong
Gerald English
Sir Thomas Allen
Fortuna Imperatrix Mundi: I. O Fortuna
Fortuna Imperatrix Mundi: II. Fortune Plango Vulnera
Primo Vere: III. Veris Leta Facies
Primo Vere: IV. Omnia Sol Temperat
Primo Vere: V. Ecce Gratum
Uf Dem Anger: VI. Tanz
Uf Dem Anger: VII. Floret Silva
Uf Dem Anger: VIII. Chramer, Gip Die Varwe Mir
Uf Dem Anger: IX. Reie-Swaz Hie Gat Umbe-Chume, Chum, Geselle Mini-Swaz Hie Gat Umbe
Uf Dem Anger: X. Were Diu Werit Alle Min
In Taberna: XI. Estuans Interius
In Taberna: XII. Olim Lacus Colueram
In Taberna: XIII. Ego Sum Abbas
In Taberna: XIV. In Taberna Quando Sumus
Cours D'amour: XV. Amor Volat Undique
Cours D'amour: XVI. Dies, Nox Et Omnia
Cours D'amour: XVII. Stetit Puella
Cours D'amour: XVIII. Circa Mea Pectora
Cours D'amour: XIX. Si Puer Cum Puellula
Cours D'amour: XX. Veni, Veni, Venias
Cours D'amour: XXI. In Trutina
Cours D'amour: XXII. Tempus Est Iocundum
Cours D'amour: XXIII. Dulcissime
Blanziflor Et Helena: XXIV. Ave Formosissima
Fortuna Imperatrix Mundi: XXV. O Fortuna