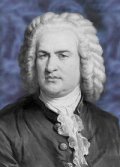 Johann Sebastian Bach
Johann Sebastian Bach spent the last 27 years of his life in Leipzig, as the Kantor of St Thomas church. It was job he fell into by accident. It was originally offered to Georg Philipp Telemann and Christoph Graupner, both well-known and highly respected in Leipzig.
Telemann refused the offer and Graupner was unable to relinquish his previous job. In desperation, the council turned to Bach, largely unknown in Leipzig, and even described as mediocre by one council member.
Bach took up the position in 1723 and imediately found himself busier than he would like. His duties included teaching, both music and Latin, to play the church organ, conduct and manage the choir including hiring and firing of the musicians, and compose all the music for both large churches in the city.
All this for a very meagre salary. In fact, the writings of Bach from this time are almost completely consumed with complaints to his employers about his workload and financial difficulties.
However, it was from this period that almost all his choral music comes. He wrote five complete sets of cantatas, one cantata for every week of the year, the Passions of St Matthew, St John, St Mark (now lost) and St Luke (of dubious authorship), the Magnificat, the Mass in B minor and of course the Christmas Oratorio.
The Christmas Oratorio, or
Weihnachts-Oratorium
, is actually a set of six sacred cantatas, each depicting a different scene from Christ's birth. While they are played as a complete set today, in Bach's time, each was intended to be played on a different holy day from Christmas day until the Epiphany (January 6).
Each of the contatas has its own orchestration, and tone, but they are unified by all being in the key of D and the joyful celebration that is evident in the entire work. Gone is the sombre mood of the St Matthew Passion. This is bells, trumpets, tympani and joyful chroruses throughout. Lutheran hymns play a large part in the Christmas Oratorio, and most of them would have been well-known to Bach's audience.
Many of the movements are recycled from other Bach cantatas, a technique known as
parody
, and some even came from the now-lost St Mark Passion. This was common practice at the time (and many other Bach works are reworkings of older pieces), but the hectic nature of Bach's appointment probably prevented him from writing completely original movements for every section.
There are many recordings of the Christmas Oratorio, and deciding between them is no easy task. This is Bach at his most exuberant and most joyful, and the recording should reflect this.
The Monteverdi Choir
And so we choose the 1985 recording by John Eliot Gardiner and the Monteverdi Choir. They revel in the joy of the occassion, not afraid to go full throttle, and even a touch over. Just listen to the opening drums and trumpets and the choir in full voice.
The soloists are top notch, including a very young Anne Sofie von Otter. They are complemented by the orchestra, on original instruments which gives it a very visceral, authentic sound.
Although a full priced CD set, it is recorded on just 2 (some recordings use 3) and a very full 2 CDs they are. There is no better introduction to the sacred choral music of Bach, easy to listen to, and easy to get carried away with. Wonderful.