Steve Reich
What is music? I ask because the works of this week's composer, the American Steve Reich, challenges most of our (Western) pre-conceptions about music.
Is music any organised sound? Is a ticking clock music? A ticking metronome? A ticking metronome with an audience? Is a composition for drum beating a regular beat at one second intervals music?
More to the point; Is human speech music?
Human speech can certainly be
musical
. We convey a lot by the pitch and tone we speak. A sentence which ends with a rising pitch indicates a question, and those that end with a little rise, then a definitive fall is a statement. A fast rhythm indicates emotional intensity, a slow, relaxed pace conveys serenity.
I have a theory that the
meaning
of Western music arose out of human speech patterns. We interpret music by relating it to how we speak. Music mirrors speech by asking questions, resolving conflicts and making statements. Think of the pounding C major chords which end Beethoven's Fifth Symphony.
Steve Reich was born in New York in 1936. His musical career started out as a percussionist, and percussion has been the driving influence in his music ever since. He even spend a season studying African drumming at the University of Ghana.
In the 1960's he experimented with recorded sounds, especially those of human speech. He played loops of these tapes against each other, the sounds slowly shifting in and out of phase.
His masterpiece
Music for 18 Musicians
from 1976 established him as one of the most original and influential living composers.
By far, his most famous and most talked-about composition is
Different Trains
from 1988. Reich's parent's divorced when he was very young, his mother moving to Los Angeles. Reich spent his early years travelling on trains from New York to California, living with each parent in turn. Years later, he realised that had he been in Europe at that time, his Jewish background would have ensured that he would have been on very different trains travelling to the concentration camps.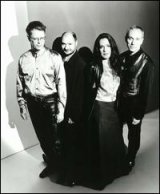 Kronos Quartet
Different Trains
uses human speech played as ever-shorter fragments until they become just notes in a musical work. The pattern of sound, both the pitch and rhythm is mirrored by the string quartet.
The words were recorded by Reich from several sources. His governess Virginia, who accompanied him on his childhood train trips, Lawrence Davis who was a porter on the trains that Reich rode on, and three survivors of the hollocaust, Paul, Rachel and Rachella. Snippets of memory make a rich tapestry.
In addition the sounds of steam trains, their screeching brakes, the whistles and the relentless, purcussive sound of the wheels on the train tracks add an ever-urgent intensity as the piece progresses.
Reich creates an emotionally intense ride out of these separate elements, fused into a coherent whole. It made such an impact when it was first recorded, both in its originality and intensity that it won a Grammy award in 1989 for best contemporary composition.
"a work of such astonishing originality that breakthrough seems the only possible description....possesses an absolutely harrowing emotional impact" - New York Times
In addition, on this CD we get a very different Reich -
Electric Counterpoint
written just a year later. It is for electric guitar, here performed by Pat Metheny who also had a hand in its composition. Eleven different motifs are performed and recorded and then played together with patterns emerging and shifting.
This is Steve Reich at his most accessible and most essential.
(For those interested, there is a 10 CD retrospective of the works of Steve Reich available
here
).
Track Listing
Steve Reich
Different Trains
for string quartet and recorded voice
Electric Counterpoint
Different Trains

1. America - Before the War Listen Listen Listen
2. Europe - During The War Listen Listen Listen
3. After the War

Electric Counterpoint

1. Fast
2. Slow
3. Fast