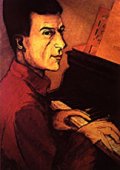 Maurice Ravel
Italy has always been the true country of Opera music. The opera tradition, as we know it, came into existence there by the end of 16th century. However, soon this form of art was also adopted in the neighbouring country France, thanks to the great composer of Italian descent, Jean-Baptiste Lully, and his opera Armide (1686).
In the 19th century the French opera sought ways to differ from the Italian tradition and to ward off the strong influence of Wagnerian opera. The premiere of Georges Bizet's Carmen in March 1875 marked an important turning point in many ways, and its Spanish character and naturalism was something quite exceptional and new.
It is a coincidence that one of France's greatest composers, Maurice Ravel (1875-1937), was born in Ciboure four days after the premiere of Carmen. Ravel had inherited the interest towards Spanish music through his mother, an interest which never weakened. We can say that Spanish music of his Basque home was in his blood. Already his first published piano compositions, Sérénade grotesque (1893) and the famous Habanera (1895), are clearly Spanish in their character and Ravel's last completed work, Don Quichotte à Dulcinée (1932), with its Spanish colours is a grand end for his career as a composer.
Right from the start Ravel had his own unique style, which could be described as French Impressionism with a Spanish flavour. In his own way Ravel continued the path originally pointed out by Bizet and Chabrier.
Deutsche Grammophon has done a marvellous job by reissuing Lorin Maazel's interpretation of Ravel's two giant works, the two operas
L'Heure Espagnole
and
L'Enfant et les sortilèges
. Coupled with Stravinsky's
Le Chant du rossignol
and Rimsky-Korsakov's
Capriccio espagnol
, these performances recorded forty years ago are still among the best versions available on the market. Let's have a closer look at the operas.
L'Heure Espagnole
Ravel had more opera plans in his mind that he could produce during his lifetime. His first completed opera,
L'Heure Espagnole
, was written without a break from May to September 1907 at Levallois. Ravel wanted to complete the work as soon as possible in order to present the work as a gift to his father. It is unfortunate that his father died before the premiere in 1911, but thanks to Ravel's exertion we have an hour-long comic opera.
The title of the Opera already gives a hint about the Spanish nature of this work. The events take place in Toledo, and the story builds upon the tension that naturally exists between men and women. Whether this tension and, of course, the clever game with words is strong enough to keep one's interest in the dramatic elements of the work (the opera has only five singing roles) can be argued, but on the other hand, the work is not intended to be something greater than it actually is-a moment of amusement.
There are no doubts, however, about the achievements in music. The opening of the opera is one of the most distinguished moments in Ravel's creations. Lorin Maazel's interpretation is unforgettable. As always, Ravel's orchestral colors shine bright. Ravel was a craftsman who left nothing unfinished. This way,
L'Heure Espagnole
is not an exception in his oeuvre. Thanks to Maazel, this is clearer than ever.
L'Enfant et les sortilèges
The writing of
L'Enfant et les sortilèges
kept Ravel busy for some years. It was finally completed in 1925. If
L'Heure
was an opera for adults,
L'Enfant et sortilèges
is completely different; it's a genuine children's opera, maybe best of its kind. The innocence of this opera is touching compared to the perversity of
L'Heure
.
The music is versatile. It is a Walt Disney fantasy by one man, Maurice Ravel, well before Mickey Mouse and Donald Duck were created. It has a great story, great music and great characters. The work is filled with imagination and magic. At the same time it is also a touching proof of the composer's true character.
It is no wonder that Lorin Maazel's recording of
L'Enfant et les Sortilèges
won the Grand Prix International du Disque prize in 1961. It well deserves it. Every detail is taken into perfection. This is art for art. The same goes with the other works presented in this two disc set. This set is vital for the fans of Ravel's opera music, and a great way for beginners in classical music to get to know these works by the great French composer.
Highly recommend.
(Joel Valkila)
This 2 CD Set Includes:
L' heure espagnole, opera in 1 act
Maurice Ravel
Orchestra National de la R.T.F.
Conducted by Lorin Maazel


Capriccio espagñol (Kaprichchio na ispankskiye temï), for orchestra, Op. 34 Nikolay Andreyevich Rimsky-Korsakov
Berlin Philharmonic Orchestra
Conducted by Lorin Maazel


L'enfant et les sortilèges, opera-ballet in 2 parts
Maurice Ravel
ORTF Orchestra & Chorus
Conducted by Lorin Maazel


Chant du rossignol (The Song of the Nightingale), symphonic poem for orchestra
Igor Stravinsky
ORTF Orchestra & Chorus
Conducted by Lorin Maazel