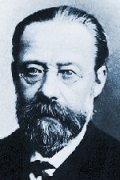 Bedrich Smetana
Bedrich Smetana was already mid-composition of
Vyšehrad
, the first of the six tone-poems comprising
Má vlast
(My Country), when he completely lost his hearing, the night of 19 October 1874. It is a curious contrast (whose full significance I am not prepared here to explore) that practically the whole musical world knows of Beethoven's deafness — the adversity against which the musical Titan shook his compositional fist — but that Smetana's deafness seems almost a matter known only to specialists.
Smetana had met Liszt, the first great exponent of the tone-poem, in Weimar in 1857. The tone-poem (also called symphonic poem) is a purely orchestral work in a single movement, which tells a story, or is otherwise intended to represent in sound, a specific mood. Many of Liszt's tone-poems are associated with literature:
Mazeppa, Hamlet, Tasso
. Shortly after meeting Liszt, Smetana's admiration for the great composer expressed itself partly in a series of tone-poems on literary subjects, including Richard III (1857-8) and Hakon Jarl (1860-61).
Smetana designed the six tone-poems of
Má vlast
as a series alternating between historical narrative celebrating his native Bohemia (today's Czech Republic) —
Vyšehrad
,
Šárka
and
Tábor
— and musical impressions of natural features: the river Vltava which flows past the capital of Prague, the Czech meadows and glades, and Blaník mountain.
In addition, the historical component of the cycle moves chronologically from the legendary past, the mythic seat of the first Bohemian princes; to the historical rebel-cum-local-hero Jan Hus, a pre-Luther reformational priest who went to the Council of Constance under the Emperor's promise of safe-conduct, but who (in spite of that pledge) was tried for heresy, and burnt alive; back to the legendary "white mountain" (Blaník) under which the Hussite warriors are said to sleep, waiting for their homeland's great need; and a buoyant finale embodying the hope of a glorious future for the Czech people.
Since
Má vlast
serves as a clear link between Liszt, and Dvorák's great symphonic poems of the 1890's, it may well appear that this hope began rapidly to bear fruit.
The cycle is unified musically largely by the first tone-poem,
Vyšehrad
, motifs from which are employed in all the first four (which were composed in close succession), as well as appearing at the very end. And the final two are closely linked, the sixth (Blaník) literally picking up where the fifth (Tábor) ends; and in using motifs from the ancient Czech hymn,
Kdož jste Boži bojovnici
("Ye who are God's warriors").
Smetana's intent (despite the near-three-year interruption between completing
From Bohemia's Woods and Fields
, and beginning
Tábor
) was that the cycle should be performed and appreciated as a whole, and this recording of Ancerl and the Czech Philharmonic vindicates Smetana brilliantly.
It has become a commonplace that
Vltava
(
Die Moldau
) is somehow singled out for programming here in the West; its continued popularity reflects its real charm. And yet, it does not stand at all unique in the cycle for charm, and musical tone-painting.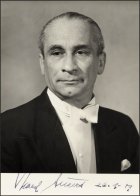 Karel Ancerl
Vyšehrad
is a marvelous example of a substantial composition, built practically out of a single theme. The musical depiction of the ancient citadel to the south of Prague begins with a cadenza of two bardic harps, introducing a large ternary form. The Lento is a long crescendo in which the theme passes from choir to choir. The B section contrasts, not material, but tempo (
Allegro vivo ma non agitato
) and manner, dramatically piecing the theme apart, much like a Beethoven development, yet with a rhythmic inventiveness belonging to Smetana.
The course of the
Vltava
in Smetana's part II is sufficiently famous, we will not here recapitulate the full journey, but simply observe that the music (as the river) draws at last to the
Vyšehrad
theme.
The overall pastoral character of the
Vyšehrad
and
Vltava
together is abruptly shattered by
Šárka
, a tale of bitter betrayal, rage, calculated deception, and savage retaliation. The music unfolds in a series of finely delineated dramatic episodes.
From Bohemia's Woods & Fields
begins with a massive
tutti
, mostly doublings and octaves in which Smetana masterfully converts the orchestra into a mighty pipe-organ. This subsides in a gradual diminuendo, and 'a light [rustling] in the grass' is represented by a wispy fugato in the strings. Returning in fitful patches, the opening 'pipe-organ' theme comes back ingeniously converted to a polka rhythm.
Nos. 5 & 6 belong to one another, even as they were composed together apart from the rest, and were premiered on Smetana's jubilee concert.
Tábor
begins softly with a rhythmic tattoo (short-short-long-long) in the horns, jarring against a flow of suspensions which long for an elusive repose. A soft clarinet/bassoon chorale, using the tattoo rhythm, hints at resolution; but
Tábor
becomes a kind of development in search of a theme, a driving sequence of different motives boiling with a Tchaikovskian passion, restlessly surging, their point of rest to be reached only in Blaník.
Tábor
ends fortissimo, knocking out the rhythmic tattoo.
Blaník
takes up the tattoo right where
Tábor
leaves off, tapers into a motoric counterpoint which is not strictly a fugue, but which takes its theme through a series of keys like the exposition of a fugue; the activity here is more orderly than in
Tábor
. This yields to a calm wind chorale, then to a genuinely bucolic peace, solo winds over a drone in the strings. The Hussite heroes now at their rest, the stage is set for the glorious future of Bohemia.
The Czech Philharmonic is the premier orchestra of Prague (a city whose musical pedigree we may perhaps summarize by noting that, where Vienna found Mozart amusing for a season, and then flitted on to the next entertainment, Prague commissioned two of Mozart's operatic masterpieces:
La clemenza di Tito
, and
Don Giovanni
) and Karel Ancerl led them into a golden age. Ancerl left Czechoslovakia in 1968 (and led the Toronto Symphony until his death in 1973). It is an orchestra which, under the later direction of Václav Neumann, would come to play some part in the protests which would at last bear fruit in the Velvet Revolution.
It may be that Má vlast has never sounded more engaging, never more musically right as a whole, never more in its element, than in this recording by this storied orchestra, the musical pride of Smetana's home city.
~Karl Henning