The Performer

bruce Hungerford
Australian Bruce Hungerford was born in the small Victorian town of Korumburra, on November 24, 1922. He started his music education in Melbourne then moved to Sydney to study with émigré keyboard artist Ignaz Friedman who had made Australia his home in the 1930s. One of Friedman's teachers was the great pedagogue Theodor Leschetizky, who also taught Mark Hambourg, Ignaz Paderewski, Harold Bauer and Benno Moisewitsch.
After playing for (and impressing) Eugene Ormandy, in 1945 the conductor arranged for Hungerford to enroll at the prestigious Julliard School of Music. After two years of study there Hungerford moved to Philadelphia to work with Olga Samaroff. However, he was unhappy with his lessons with Samaroff and approached Myra Hess for advice. Hess became Hungerford's mentor, a relationship that lasted until her death in 1965. It was she who suggested that he study with Carl Friedberg which proved to be a seminal moment in his career.
Making one's way as a touring pianist in the 1950's was not easy, especially when you consider that Rubinstein, Solomon, Horowitz, and many other great pianists were active at the time. To make ends meet Hungerford became an archaeologist, his other passion. He became so skilled and knowledgeable that he was considered an expert and undertook lecture tours in Europe and the US on the 'Heritage of Ancient Egypt', sometimes combining them with his concert tours.
Bruce Hungerford was selected by Seymour and Maynard Solomon, founders of Vanguard, to record all the works of Beethoven for that label. He had recorded 22 of the sonatas plus a couple of miscellaneous works when he was killed in an automobile accident in New York on January 26, 1977. He was only 54. His commercial recorded legacy is small but the International Piano Archives at Maryland have a large collection of taped material including tapes Hungerford made himself of his lessons with Friedberg in 1951 – 52. There are over twenty hours of this material plus a lot of other material which has never been published. Maybe we will see some of this in the future.
The Sonatas:
Hungerford's approach to Beethoven could best be described as both unfussy and uncompromising. There is no hint of artifice or affectation, just a deep understanding of the music. Hungerford's playing is also quite unique in many places and old warhorses are given new lease of life. He prefers faster tempos in the outer movements but never loses control of either technique or the music itself.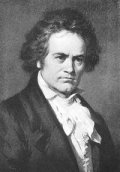 Ludwig van Beethoven
The recordings start with the
Pathetique
and right from the start you can hear that this is different. After a very straightforward opening Grave section the Allegro is up and racing. The speed is thrilling and it is here that you notice Hungerford's immaculate technique and the absolute clarity of his playing. This clarity is a distinguishing feature of all his playing. The movement has a very percussive quality about it as the left hand octave tremolos are given that extra bit of bite.
Those wanting a tender affectionate Adagio cantabile will be disappointed as the pianist plays the movement without any use of rubato and the singing line of the right hand is somewhat muted. The Rondo is splendid! There is plenty of animation and Hungerford uses the trills and other ornamentations to excellent effect.
The opening of the
Moonlight
is taken quite quickly; no shimmering moonlight on Lake Lucerne here! The presto of the finale once again shows up this pianist's stupendous technique. Here I am reminded of Solomon, whose ability to play presto passage so articulately at either
ppp
or
fff
was peerless. This similarity is again highlighted in the
Waldstein
. Hungerford takes this at an incredible speed which allows the music to be driven along to a point of climax. So many pianists find it hard to reproduce this yet Hungerford manages it with a clarity that is breathtaking.
His approach to the Rondo is surely unique. The reasoning behind it is best described in his own words. "In the early 1960s, I took the opportunity to try Beethoven's Graf pianoforte, being especially interested to hear the passages in the rondo theme of the Waldstein where Beethoven clearly indicates that he wants the [sustain] pedal held uninterruptedly. The effect was as different as that which can be produced on a modern concert grand as can be imagined. The sustaining power of the Graf is only a fraction of that of our modern instrument. I therefore take the liberty of departing slightly from Beethoven's instructions in an attempt to reproduce as closely as possible the unexpected and beautiful effect on Beethoven's piano". How Hungerford achieved this effect is baffling but it is certainly a striking one, ethereal in quality, the near staccato notes never disguising the singing lines of the right hand. This is a superb performance of this sonata and I rank it alongside Gilels, Kovacevich and Solomon.
The last recording on the first disc is Op 31 No 2 and it is a real gem. Hungerford has discovered that the four note octave tremolo played in the bass of the Adagio reappears, in a slightly modified form in the third movement and he builds the whole sonata around this idea. It sounds much like a somewhat dissonant 'knock of fate' that you hear in the 5th symphony. Whether Beethoven intended this or not, the effect of emphasizing this motif helps to link all three movements together and makes for a highly original reading of this whole work.
The first sonata on the second disc is Op 78 and it is not given the flippant treatment handed out by so many other pianists. There is a real sense of
élan
and high spirits especially in the 2nd movement.
The disc ends with the Everest of the Beethoven sonata cycle, Op 109 – 111. The technical difficulties of Op 109 alone are enough to make a pianist work hard before worrying about interpretation. Many interpretations of these three sonatas are either tonally monochromatic or have more mood changes than a person with an untreated polar disorder. The skill is in finding a balance of the '
Sturm und Drang
' both within and between the movements and only the greats achieve this balance. So does Hungerford! His rhythmic surety and willingness to bring the left hand more into play is a major asset as is his technical skill. Again, tempos are a little on the fast side in the outer movements but the slower ones are beautifully played without being overly cloying in attempt to wring out that last bit of emotion.
The Conclusion
This recording has been a revelation for me. Just when I thought I'd heard everything that could be done with Beethoven sonatas, along come these discs. Hungerford's playing is unique but it is definitely Beethoven in both spirit and concept. What you hear is a man with an exceptional technique who had his own individual views and was not afraid to express them musically. For the Tempest and Waldstein sonatas alone, this 2 CD set is worth every penny but you don't get shortchanged with the other 6 works either. I can't wait to hear what Hungerford has to say with the other 14 sonatas. What a pity that he never completed the set.
~Holden
Track Listing
Ludwig van Beethoven
8 Piano Sonatas
Bruce Hungerford - Piano

Disc 1
Sonata for Piano no 8 in C minor, Op. 13 "Pathetique"

Grave; Allegro Di Molto E Con Brio
Adagio Cantabile
Rondo: Allegro

Sonata for Piano no 14 in C sharp minor, Op. 27 no 2 "Moonlight"

Adagio Sostenuto
Allegretto
Presto Agitato

Sonata for Piano no 17 in D minor, Op. 31 no 2 "Tempest"

Largo; Allegro
Adagio
Allegretto

Sonata for Piano no 21 in C major, Op. 53 "Waldstein"

Allegro Con Brio
Adagio Molto - Rondo:Allegretto Moderato
Disc 2
Sonata for Piano no 24 in F sharp major, Op. 78

Adagio Cantabile
Allegro Vivace

Sonata for Piano no 30 in E major, Op. 109

Vivace Ma Non Troppo
Prestissimo
Andante Molto Cantabile Ed Espressivo

Sonata for Piano no 31 in A flat major, Op. 110
Moderato Cantabile, Molto Espressivo
Allegro Molto
Adagio Ma Non Troppo
Fuga: Allegro Ma Non Troppo

Sonata for Piano no 32 in C minor, Op. 111

Maestoso - Allegro Con Brio Ed Appassionato
Arietta: Adagio Molto Semplice E Cantabile